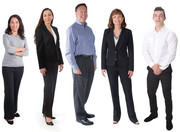 Two unique personalities. Many shared values. One incredible team. This is how you would describe Greg & Lisa Doyle.
With Greg's detailed, analytical approach and Lisa's positive, high-energy style, they often take different paths to achieve results. Yet, they are always focused on the same goal: your success.
You see, as a leading real estate team with more than 50 years of combined experience in the industry, their blend of personalities and specialties are what make them such a dynamic partnership. With Lisa focused on customer service and personalized guidance and Greg handling the details of the contracts and negotiations, they have all your needs covered. They each do what they do best and, together, they are able to help you accomplish more when buying or selling a home.
Making Every Moment Count
When you get to know Greg & Lisa, you quickly discover there's nothing more important to them than their family. Their daughter Felicia has followed in their footsteps and is now a real estate agent. Their son Jesse has found tremendous success in the music world. Their youngest daughter, Sydney will be soon heading off to college. They cherish every moment they share as a family. "It doesn't matter what we are doing, as long as we are doing it together," Lisa says. "That's what makes the moments truly special."
Greg, Lisa and their family certainly know how to make the most of life together in the East Bay Area. Whether it's playing games with their granddaughter Skarlet in their home, taking a ski trip to the nearby mountains, enjoying a round of golf or having friends over for a dinner party, they believe in making every moment count.
Better Together
The Doyles both draw from an extensive background in real estate. Greg has been in real estate sales for more than 30 years and for 10 years was the owner of his own brokerage. Before that, he worked in the mortgage industry. Lisa has been in real estate for more than 20 years. Together, they offer a level of experience that is simply unmatched in the local market. But what makes their team approach so dynamic is their individual specialties. Lisa is a genuine "people person," focused on providing guidance, care and insight to help clients make the right buying and selling decisions. On the other hand, Greg's expertise is in contracts and negotiations. His detailed, analytical approach ensures exceptional results. When you add it all up, they are able to handle all of the details of your home purchase or sale more effectively and efficiently.
When it comes to your next move off the 680 Corridor area, call the team that's Better Together. Contact Greg, Lisa, and The Doyle Team today to get the most out of your real estate experience.
We proudly serve the real estate needs of residents in Danville, San Ramon, Blackhawk, Dublin, Pleasanton, Livermore, Alamo, Walnut Creek, Lafayette, Moraga, Orinda, Concord, Martinez and Pleasant Hill.
Lisa & Greg Doyle are the real estate team that's Better Together.
They are focused on your family's needs, so call or email The Doyles today and make the most of your next move!
---
---
T.J. Smith
As a Realtor Partner, I fully utilize my youthfulness to get things done right, and to act quickly on the needs of my clients. I enjoy showing homes to buyers and my high energy gives me an edge over my peers in the home showing process. Anybody and everybody who knows me would describe me as persistent, dedicated, trustworthy, and extremely fair. My goal is to use my knowledge on the real estate market combined with my persistence and dedication to make every transaction go tremendously smooth and stress free for my clients.
_____________________________________________________________________________
Michele Chen
As a Realtor partner, I create seamless transaction processes from the beginning with curated selections of properties catered towards clients needs to the end of escrow. I strive to educate and empower our clients, regardless of their backgrounds, to make informed decisions based on current and local market trends, historical data, and the years of combined experience in the real estate sector. By understanding that purchasing a home or investment property is a decision that requires utmost trust, I earn it by consistently delivering on my commitments and demonstrating my credibility through diligent work ethic and comprehensive understanding of the industry. My goal is to equip our clients with the information needed to choose the option that best aligns with their goals, whether the factors are determined by family, investment, or circumstantial outcomes.